After the astounding feedback I received from all of you, I shall continue to keep you abreast of our endeavours to win a race very few people know or care about.
Our $250.00 supercar has progressed from being in one piece to being in lots of pieces. Where once we had an interior, there is now enough space to hold a game of cricket, if you ignore all the loose wires and bits and pieces. However, I am told this is progress. In the meantime, Captain Queeg is in Asia driving Lambos and gold Ferraris. Only goes to prove having lots and lots of money does not mean you have any class. Who in their right mind would paint their Ferrari gold? On the positive side, our $250.00 supercar was taken for a run at 120km/h, and most of the wheels stayed on. The air con and the radio refuse to work but the roll cage is in.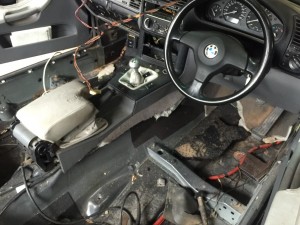 Our fearless leader signed off with: "OK, the car is looking good, but what about the drivers?" Well friends, I am worried. This 24-hour race is a test of man, machine, the local toilets and our pit crew, which unfortunately at the moment is Michael. Anyway, there are months to go, so let's see what happens. I do not share his laconic attention to timeframe because according to the rules we have until 15th September to get the car ready and that does not give us lots of time. Unlike our captain, my preparations for the race are complete. My race suit is finished and the embroidery on the back looks just fabulous. My helmet has corresponding decals, I have a new pair of Puma race shoes and my CAMS licence is heaven only knows where, lost as only Australia Post can lose things. I may not be allowed to race, but gosh I will look just great.