It is a very rare occurrence for "Speed Off The Streets", which is held at Wakefield, to occur on a weekend. I suspect that one such occasion came about because a private booking of the race track was cancelled. Whatever the reason, Sunday 15th appeared on the Wakefield website calendar, and I dreaded the possibility of hundreds of people descending. However, the combination of the long weekend which had occurred the previous week, and the weather—a typical blustering cold day— meant that very few cars and drivers actually turned up. In one session, a single Superkart driver had the race track all to himself, and he sounded like a very angry bee.
So with almost an open slate day, discounting the track feeling like driving on ice, compliments of the Drift team from previous day. Mud and rain on the corners played merry havoc with my grip as "Mezzie" danced around the track. But as the day wore on, the rain ceased, the track became dry and it started to be serious fun. I was joined by two others, my godson Jordan and his girlfriend Bianca. Bianca, a Wakefield virgin, managed an impressive 1.28 during one of her sessions. In between our turns, the two of them, along with Boz leading the charge, helped improve Telstra profits. It would have required a surgical procedure to separate them from their iPhones!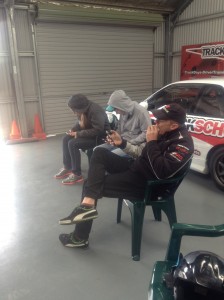 The day ended on a high note. "Mezzie" got a bath to bring her back to her usual stunning self, and Boz used his time taking even more photos of his babies. There were just three of them; the rest were away playing with other cars.