Not only that, we are alive and finished 16th out of field of 39. So many participants decided that this was the 24HeuresDuMans, despite the fact that we were at Wakefield and large numbers of participants were dressed funny and most of us had cars rescued from wrecking yard.
Tuesday morning and all of us have been up since before the sparrows, scrutineering is nothing like what I expected. Memo where the information about gates opening at 9am was largely ignored and the line outside the gates attested to that fact. It very quickly became obvious that some teams had gone to incredible effort; we had a car with wine barrel on the roof, but since none of us were allowed to drink it proved to be a huge shame for all that effort going to waste. We had an old Merc masquerading as a German tank with crew dressed as Hogan's Heroes, whenever the car slowed down it played endless loop of the Hogan's Heroes tune, which only goes to prove that you can do anything you set your mind to when you have vision, determination and endless supply of expendable labour. The only disappointment was the lack of female participation. Just me and lady called Dee from across the ditch. Perhaps next year we could get an all-girl crew to tone down the testosterone.
The organisers had a unique way of dealing with offenders who were there to "Win".
The range of penalties was hilarious at best. We have had the worst ever Rap performed by one of the offending teams, given that they were using their smart phones to reference their lyrics and phone coverage at Wakefield is patchy at best I don't see them as an entry into Australia Got Talent anytime soon. There was a crew holding hands walking the pit lane and the driver allocated loud speaker to apologies to all other participants for being an idiot. Drivers sitting on the floor assembling child jigsaw puzzle, Rubik's Cube sat forlorn awaiting the next person who decided that their name was Lewis Hamilton and there were many contenders. On the second day of Drivers Briefing a special mention was announced to the F1 candidates. On the first day when we had a safety car on the track and all the F1 wannabes started to weave in and out F1 style to keep the tyres at temperature, which got the resounding "You are at the wrong race". However it was once the race was on the way, I was astounded by all the help everybody was willing to provide. We had a VW that spent 30 years on the farm with authentic moss growing on it, the poor car spent most of the race in the garage, but everybody was happy to help push it in to the garage or out of the garage depending on the circumstances.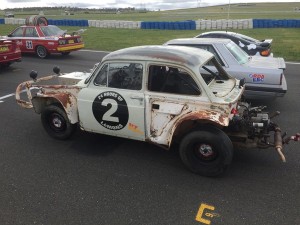 Racing was huge fun; well for us it wasn't as much as racing, more like keeping the car running. We lost a starter motor on the first day. We lost two of our drivers and that made refuelling and driver changes that much more interesting. I forgot to bring a pillow so that I could actually see out of the car. John was introduced to the local workforce at the Goulburn wreckers that has set his therapy back for years. Neither Dean nor Michael had yelled at us amateurs for being just that, amateurs. Poor Grant has turned himself into a jack of all trades, he not only fed all of us, and he also helped with driver changes, refuelling, and anything else that was needed. Boy am I in his debt!
I would love to do this event, again. However next year I'll make sure I'll bring a pillow. It may help if I am able to see where I am going.