It's now the end of March, and we are well and truly into autumn. I live on the coast, and fogs are rare for me. They're usually limited to the Sydney Harbour Bridge top arch, disappearing into a fairy-tale mist. So I had forgotten how thick the fog can be when away from the coastline.
Early in the morning, leaving the main freeway, I was plunged into a surreal foggy world of little visibility and eerie quiet. The closer to Wakefield, the thicker the fog. I nearly missed the turn-off into the main gate of Wakefield Park.
I arrived at Trackschool HQ to find Boz giving Mezzie a final polish and proudly showing me the new exhaust. Must be a boy thing; I did not think there was anything wrong with the original exhaust. However, said new exhaust is now part and parcel of Mezzie, and Boz is much chuffed. All I can say is that it is much louder than the original, and John has had to start to wear a different helmet so that he can hear me apologizing when I screw up on the track. My fellow Trackschool customer was Darren, with a beautiful and very, very red Alfa, quite rightly his pride and joy. By about 9:30 am, the fog lifted for a perfect sunny day.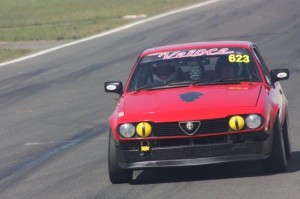 I was told by Boz that Darren had arrived even earlier than he had. I did not think it was even possible. These guys were in Wakefield Park when I was tossing up whether if I should get up, or push the snooze button on my iPhone. Boz, if this information was to make me feel guilty, sorry mate, it did not work. My timing is perfect: I arrive when the coffee machine is ready in the café.
As usual, the day was huge fun. Boz would be with me on one session, and as soon as this was finished, he would jump into Darren's Alfa for his session. I think he needs to cut down on sugar; nobody should be that hyper. My confidence improved as the day wore on, even though the last session of the day was not the best. Nevertheless, all things considered, it was still a fabulous day. Darren and Boz were meeting the following day for a more professional race day, but I was happy to head home for more girly pursuits.