The IT industry is splintered. Many global companies have IT split pretty much 50/50 females to males. In some of the government agencies this ratio is skewed more towards males, especially in the infrastructure space. Hence, I am finding myself more and more being the token female in many meetings. Having an interest in cars opens conversations, and I am finding that it breaks the ice very quickly. It was a pleasant surprise when one of the vendors at my current contract, a weekend warrior with a red Nissan R33 GTS, volunteered to join me at Wakefield.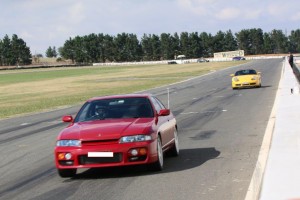 Let's just say it was eventful day. Much to my embarrassment, David arrived at Wakefield a full hour ahead of me, even when I had had less than 100 km to travel, thanks to my overnight accommodation at Sutton Forrest. The first session included a young guy in an old Mini hitting the ripple strip. The momentum flipped him on the side and he ended up on the roof. I finally understood the term "in slow motion". There was nothing I could do to stop it. Luckily, Boz was out of the car before I realised what was happening and pulled the driver out of the car. So I got very familiar with the Fish Hook Turn.
A few sessions later, a driver in a car whose logo is the Trident sheared off all his wheel nuts from one of his rear wheels. This had me and about half a dozen other people walking the track looking for them. The strait before the final turn looks much wider when you are walking it. Who would have thought?